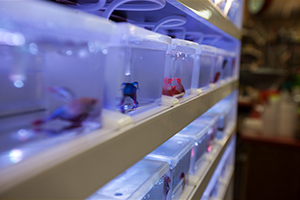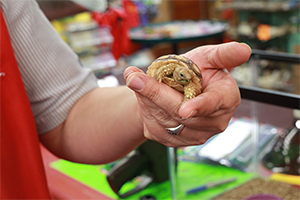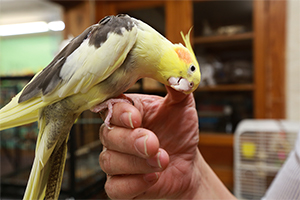 Live Animals
You can buy goldfish anywhere (and we have those too), but what about large veiled chameleons, ferrets, cinnamon doves, or a baby bearded dragon! Our Pet Shop is home to unique animals you can't find anywhere else, expertly cared for by our loving and thoughtful team. Ask for Cindy if you have any questions!
Even if you aren't looking for a pet, come say "Hi" to the baby bunnies and sweet guinea pigs. Our animals don't mind your admiration. It's like a trip to the zoo.
An aviary of hand-tamed and exotic birds of all shapes and sizes.
Baby macaw
Black-headed caique
Parakeets
Finches
Cockatiels
Beebees
Fish
We have an exciting aquarium of fish, both big and small, tropical and beautifully ordinary.
Betas and unique aquarium kits (like picture frames), so get creative.
Tropical Goldfish
Reptiles: (whose queen is our in-store 11-year-old iguana Rusty.)
Snakes
Lizards
Turtles
Frogs
And all things fuzzy:
Rabbits
Ferrets
Guinea pigs
Hamsters
Mice
We also do special orders on other unique pets like spiders, just ask! Keep up with our menagerie and newest additions on our Facebook.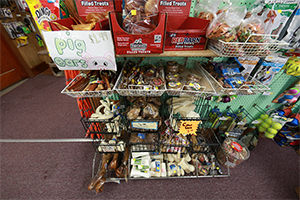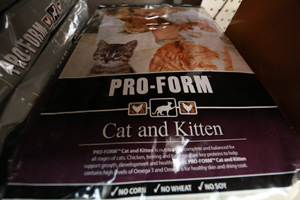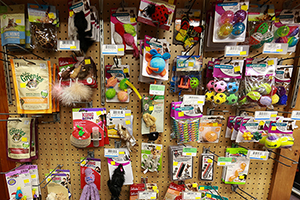 Pet Food
Cat and Dog food with trusted name brands, Vermont made, and grain-free options. Plus treats, bones, and other tasty chewies. Catnip. Does that belong in food or… hobbies?
Taste of the Wild – Grain-free
ProForm by Poulin Grain – Local
Iams
Eukanuba
Pounce Treats
Greenies
For your reptiles we have:
Crickets
Mice
Nectar for geckos
For your fish, we have those flakes they love.
For small animals, we have alfalfa, pellets, mixes, and hay. Along with water and food accessories.
Buy by-the-pound pellets and mixes. Pre-packaged bags of hay, and alfalfa. Mini bales of locally grown orchard grass.
For birds we have:
Buy by the pound seed
Fruit and veggie mixes
Breed-specific specialty mixes
Treats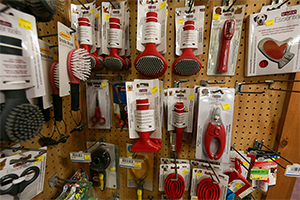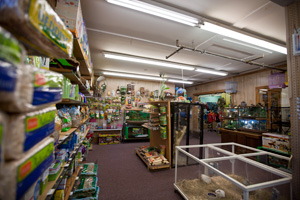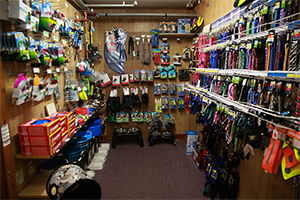 Pet Supplies
You have your pet, now you need everything else. Luckily we have everything else, and a seasoned staff who can help you navigate the selection to find the perfect fit for your four-legged, two-clawed, multi-finned, and fuzzy-pawed family members.
Here's our selection at a glance:
For Cats and Dogs:
Toys
Beds and boxes
Leashes, collars, cones, and handkerchiefs
Grooming Shampoos and brushes
Tick, flea, and other over-the-counter treatments.
For Fish:
Beta Kits with unique bowls and setups like picture frames. So you can be as creative with their habitat as you like!
Tropical fish kits in 10 and 20-gallon sizes.
Tanks
Filters
Heaters
Pumps
Plastic plants
Tank decor (sculptures, rocks, etc.)
For Reptiles:
Kits for everything you need in one easy, take-and-go, package. All different sizes and types.
Terrariums
Plants
Rocks
Warming lamps
For Small Cuddly Things (Hamsters, Guinea Pigs, Rabbits, Ferrets, etc.):
Kits with everything you need in one easy take-and-go package.
Cages
Food and water accessories
Bedding (pine and paper)
Toys (balls, wheels, caves for hiding, etc.)
For Birds:
Kits with everything you need in one easy take-and-go package
Cages
Swings
Toys (yes we have toys too)